Does TikTok Make Sense for Your Social Media Marketing?
If there is one social media platform that has become a household name in this new quarantine life, it has to be TikTok.
As the most downloaded app of Q1 2020, TikTok has been downloaded over 2 billion times worldwide with 130 million of them coming from the U.S.
What makes TikTok so addicting is that it is more of an entertainment platform than lifestyle. Practically anyone can become a content creator because of the app's ease of use and features.
"Our mission is to inspire creativity and bring joy. The platform is a home for creative expression through videos that create a genuine, inspiring, and joyful experience"
– TikTok's mission statement
Considering the growing power of video marketing, what kind of brands and industries can actually benefit from using TikTok to reach their audience?
Here are our reasons for why, or why not, you should consider TikTok for your brand.
What Makes TikTok Different from Vine?
TikTok (formerly known as Musical.ly), is a short-form, entertainment-filled, video-sharing platform that was created in Beijing, China in 2012 and released globally in 2017.
Unlike Twitter's Vine, which died out in 2017, videos shared on TikTok can go up to 60 seconds in duration. It not only allows you to record and edit videos directly on the app, TikTok also lets you upload videos saved on your smartphone, as long as it's less than a minute.
Content on TikTok usually contains sound in the background, usually music or funny dialogues from movies and shows, with people dancing, lip syncing, acting and doing everyday activities for entertainment.
Recently, we have noticed more and more users are also using TikTok to create informational content to their audience. Whether it is advice on healthy living, entrepreneurship, or how to create good TikTok videos, there seems to be content for every niche.
Trending challenges and hashtags are also huge on TikTok which allows videos to become more discoverable and go viral. These videos can get directly shared on other social media platforms, such as Instagram and Facebook or sent to your friends directly through a text message.
Why Should We Use TikTok?
Like many other social media platforms, to find out whether TikTok is the right platform for your brand, you need to identify WHO uses it, for what purpose and decide whether or not it will make sense for your business.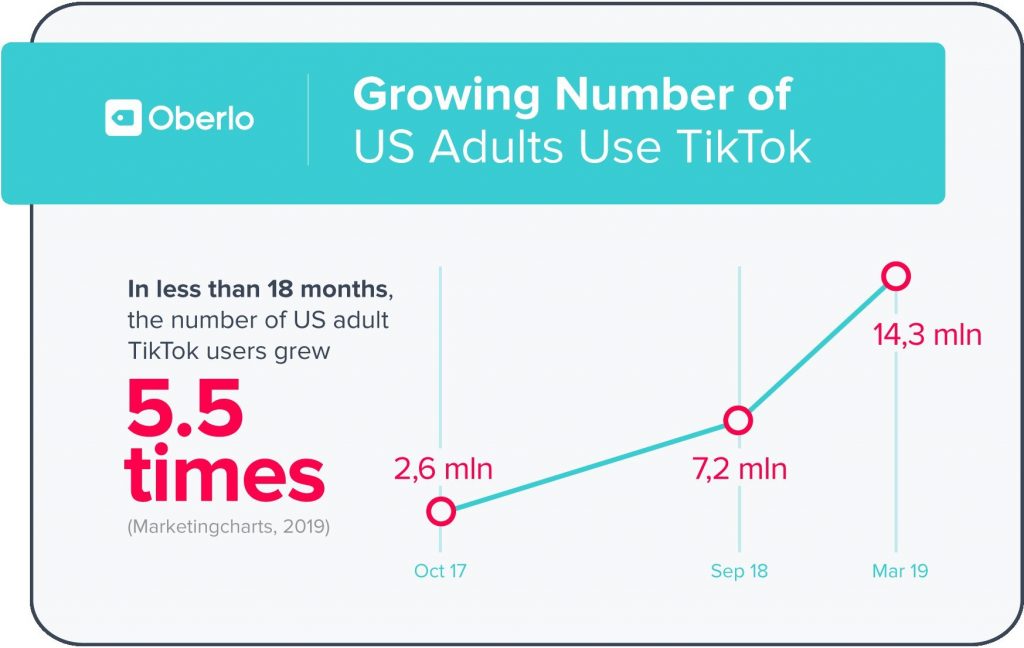 Source: Oberlo
The chart above illustrates the rapid spike in TikTok's growth among U.S. adults (over 18) that went from 2.6 million adults in 2017 to 14.3 million in 2019.
Today, TikTok has been downloaded over 165 million times in the U.S. alone with 41% of the users between ages 16 to 24. This age rage has been on a rapid rise with many more older generations downloading the app recently, thanks to everyone staying home during the Covid-19 pandemic
To add to our list of reasons why we need to get on the TikTok bandwagon, users spend an average of 52 minutes on the app daily (BusinessofApps, 2019).
In comparison, people spend about the same time on Instagram daily (53 mins) and a little less on Snapchat (49.5 mins). Facebook leads the pack with an average of 58.5 mins spent per day.
Tik Tok's Benefits
Probably one of the biggest benefits we see from using TikTok is that it provides a framework that makes it easier for people to create content. For example, it allows you to put together video clips, add audio, filters and effects, and control video speed.
TikTok is for video what Instagram is for photography.
Brands use it to create their own branded content on TikTok and grow an audience, similar to growing your audience on YouTube.
Localization is another great feature of TikTok where businesses that operate in multiple locations can use marketing campaigns for specific locations to reach their target.
The user engagement on TikTok is also phenomenal due to its unique algorithm. Videos on TikTok can go viral with relative ease even if you have zero followers. Being that most videos on TikTok are so short, the content on the app is meant for fast and casual viewing.
As TikTok is growing in popularity among influencers, don't forget about the social platform's user demographics when deciding to partner with one. TikTok will be most effective for brands that actually target millennials and Gen-Z.
For example, TikTok proved to work very well for DreamWorks which wanted to generate buzz among young girls prior to the release of their new animated series on Netflix.
Who Should (or Should Not) Use TikTok?
If your industry is in banking, government, insurance or other similar sectors, TikTok may not be the ideal platform for you at this time.
However, like any other platform, we think it may still be a good idea to reserve your company handle even if you don't plan to post any content anytime soon. You never know what will happen in the next couple of years.
If you are in health, medical, food, entertainment, media, fashion, beauty and retail industries, TikTok may just be the hottest new platform you need to jumpstart your digital presence.
There are many ways you can use TikTok to showcase your business to your audience in an authentic way.
If you are a consultant or an online coach, you can use TikTok's easy-to-edit platform to create short video clips, and provide useful tips for your specific niche.
If you are an event planner, a marketing company or a construction company, you can share short behind-the-scenes footage of your event or your crew at work.
If you are a fitness instructor or food blogger, you can share workout tips or a healthy recipe.
The popular fitness influencer, Jen Selter, is successfully using TikTok to stimulate her followers to do something active in a fun way. Whether it's showing a new exercise move or her meal prep skills, TikTok allows her to reach and engage with an expanded audience beyond Instagram.
TikTok Can Grow Your Digital Audience Exponentially
For many, TikTok has proven to be a phenomenal new platform to grow their audience exponentially, very quickly. It can take one video to go viral and get millions of views, attract new followers and bring them to your other social media accounts, such as Instagram or YouTube.
The key to TikTok success is first finding your niche (the problem you are trying to solve) and then being consistent  (posting at least one piece of content per day to start). Providing entertainment or informational value to your audience will get you far on TikTok.
Participating in trends and challenges and engaging with other like-minded users in your niche are also crucial in building your audience only within a few months. If even one of your videos gets enough traction, it may appear on the "for you" feed, where it will reach many new eyeballs and grow your audience dramatically.
Once you have built a decent amount of  followers, you can use the "Live" feature from time to time to interact with your audience and attract new eyeballs. Using original sound on your post also helps your content perform better.
So, Does TikTok Make Sense for Your Business?
At the end of the day, the question of whether to use TikTok or not really depends on your business niche, audience and the goal you want to achieve.
TikTok flourishes on casual, user-generated content as opposed to high-quality, over-the-top edited videos. It also allows you to share these videos on Instagram stories and Snapchat, making it easy and a great source of content creation that will stimulate engagement without emptying your pockets.
If you are still not sure whether TikTok is right for your social media and content strategy, it's worth a try anyway. Start practicing on your own personal account.
TikTok is still at an early adaption stage that permits trial and error and is pretty much a free content creation tool to create organic content to reach an untapped audience. Anyone in your company can become a TikTok master and unleash their creativity!
With over a billion monthly active users that is actively growing, this is a huge opportunity for businesses to set their footprints on TikTok early. Because the app is still so new, it might just be the leverage your business needs to get a head start on its competition.
To gain more information about TikTok and how to keep yourself and your children safe from using TikTok, read this blog.
by Tabasum Lutfi
Lead Digital Strategist at TriVision